Developer
Here to help, to learn and to flourish.
Adrian McKee, Drupal Developer at net2Community, has worked with Drupal (https://www.drupal.org/u/adrianm6254) for almost 11 years and started his 7th year with net2Community today, September 8th, 2023!

Adrian has mastered much of Drupal's user interface, site-building capabilities, and all of the development tools we use in-house for version control, deployments, upgrades, and troubleshooting. He also has experience in module and theme development. Leveraging Adrian's early career as a network/WAN engineer in the telecommunications industry, he is our in-house expert on DNS, email, and hosting-related tasks.
Adrian McKee is a retiree of AT&T (2001). He was first hired as a janitor there and retired as a Network Engineer working on Wide Area Networks.  Along the way, he became an expert in telephony, Data Communications, Outside Plant, Central Office technologies, PCs, and Mini-Computers.
After he retired he became a gun-for-hire, working as an independent contractor supporting Microsoft, Internet, Firewalls, WAN/LAN installations, and maintenance. He also worked for a Florida ASP doing field service work and tech support via telephone.
His interest in Web Development first began in the 90s when he started running a BBS for members of his Faith. He started learning HTML to transition his BBS into a Website and in 2009 he moved from a pure HTML website to a CMS, Joomla. 
In 2012 he became involved in a push for others in his Faith to use Drupal for creating websites. As an incentive for people to engage in this a class was offered and this was his first exposure to Drupal.  The site he built can be viewed at https://www.nibahai.org.
After the class, he researched Drupal to begin increasing his knowledge of this Framework. It was from this research that he learned about a Meetup group that was focused on people interested in Drupal. Adrian started attending these meetings, networking, and learning about the Drupal Community which attracted him more as a Community, and being of service means a great deal to him as well as aligning with his Faith.
When he is not working on Drupal, you can find Adrian researching his ancestry, or photographing events for friends and family. He has a site regarding the African-American influence on Folk, Country, and Bluegrass; check it out. https://www.AfricanAmericanBluegrass.com
Maybe you will even catch him playing music sometime.  Adrian's musical knowledge and history include the ability to play music on vinyl, cassette tapes, 8-track tapes, CDs & the radio… oh, and guitar, harmonicas, nose-flute, banjo, electric bass, trombone, and tuba.  He studied for several years at the Old Town School of Folk Music.  If you want to see a great photo of him with an upright bass, back in his Bluegrass band days, check out his website:  https://www.UnityBluegrass.com.
Currently, one project he is developing with his wife is creating a Not-For-Profit that is dedicated to encouraging people to get together to discuss race and other social justice issues in an honest, non-threatening manner.  In these days of polarization, we need to get back to basics, and that basically means learning how to communicate with each other. Information on this can be found at https://www.PizzaAndSocialJustice.org.
Learn more about Adrian at https://www.drupalguy.us/bio you can also find more about his Drupal adventures there.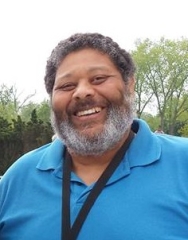 with n2C for
6 years 57 days